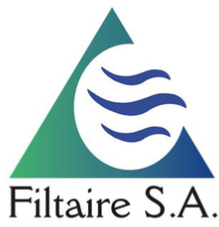 Contact us Today!
104A Terrace Road, Sebenza, Edenvale


DALAMATIC FILTER
The Dalamatic Reverse Jet flat filter units offer a large filtering area which is located within a small filter unit footprint.
Dirty laden air enters the plant at high level and immediately disperses down through the filter cell creating a "down flow" motion for efficient waste fall out leaving fine dust on the surface of the filter media.
Dust having built up on the surface of the filter media known as the "dust cake" is cleaned by means of a reverse jet compressed air cleaning action. Compressed air is injected through a venturi support cage, dislodging the "dust cake" from the filter bag maximizing the filter media life and providing continuous extraction 24 hours a day if required.
Filter media is accessed for removal via front hinged access doors allowing the operator to remove filter pads horizontally from the clean side of the dust collector ensuring minimum dust exposure to atmosphere.
Dust which has either been separated by down flow pre-settlement or from the filter bag cell following pulse cleaning is channelled via a hopper section with support steelwork to single or multiple flanged outlets.
Various discharge valves can be applied basic collection bins with bin liner option, manual wafer bagging of valve, double weighted counter balance valve, rotary valves and screw conveyors.
DALAMATIC INSERTS
The key design features of the flat Dalamatic Cage include:
1.W-Section profile for the insert frame allowing ease of bag insertion and high strength,
2.Slide together assembly to minimise weld and potential snagging, thereby maximising the wear-life of the
filter bag,
3.Cathodic electroplating (CEP) giving a smooth, low abrasion finish which will withstand up to 220°C with
excellent corrosion resistance against acid/alkaline environments, also available in, white powder coat or
stainless steel.
THE DALAMATIC FILTER RANGE
DLM 0.7M = 700mm long
DLM 1.0M = 1000mm long
DLM 1.25M = 1250mm long
DLM 1.5M = 1500mm long


Available in standard high specification fabric types in various : Polyester needle felt, Polyester Antistatic (Epitropic, Steel & Stainless.Steel), High Efficiency Polyester, Polypropylene needle felt, Acrylic needle felt, Aramid needle felt, P84 needle felt, Polyphenylsulphide needle felt.


Plus Special surface finished membranes to aid dust release and fabric protection including:
- Moisture & Oil Protection Finish, - PTFE Micro Porous Impregnation & ePTFE Laminated Membranes
- Flame & Spark retardant Coating, - Chemical Acrylic Protection Coating.