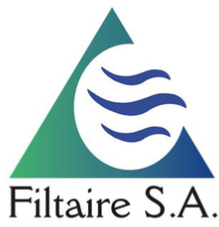 Contact us Today!
104A Terrace Road, Sebenza, Edenvale
FW7 WASHABLE POCKET FILTER
Thermo-welded synthetic fibre bag filter class G2 according to EN 779:2002 (65% ≤ Em < 75%). Available in two variants of bags (D = 300 mm and D = 500 mm) enables high dust holding capacity (DHC).
APPLICATION
Filtration of course airborne particles in Paint shop and Spraybooth systems. Used as pre-filtration stage before the fine dust filters.
OPERATING RANGE
Maximum temperature: 70 °C (continuous operation -70°C)
Relative humidity: 100%
Recommended final pressure drop: 250 Pa
FILTER MEDIA
Layered progressive density synthetic Polyester fibre.
Filter media colour – White
TECHNICAL INFORMATION
PERFORMANCE
• The average efficiency shall be as determined by the ASHRAE Standard 52.1 and 52.2 test methods.
• Media provides a high dust holding capacity and long service life.
• Pocket filters without a pre-filter will require replacement more frequently.
• The media incorporates a uniform high loft to provide a lower resistance to airflow.
• Available with different efficiencies and in different sizes to meet individual requirements.
• Reduction of energy costs due to low initial differential pressure
• Filters should be installed with pockets in the vertical wherever possible.
GUIDELINES WHEN SELECTING A POCKET FILTER
• Determine the ASHRAE efficiency required.
• Determine the face velocity needed to fit the system.
• Select the shortest depth possible with a pressure drop within the required range.
• Select the most economical filter based on the number of pockets per 600x600mm size.
• Initial and final resistances shall not exceed the scheduled values.
CONSTRUCTION – FW7PF
• Open area on the filter face for air passage shall be not less than 90%.
• Flexible internal support stitching shall maintain rated air flow conditions.
• Stitching shall be sealed with thermoplastic resin.
• Pocket edges shall be finished with a sonic weld bonding to prevent air bypass.
• Pockets are ultrasonically welded with 6 internal rows of separators to ensure even airflow distribution.
• Filter header shall have a 0.6mm chromo-deck header with 4mm retainers.
• Headers shall be gasketed with poly-foam on vertical sides to prevent leakage.
• Filters shall be UL 900 Class 2.
DISPOSAL
It is possible to easily separate synthetic bags from metal frame for the differentiated disposal.
Used filters may be disposed of in authorised landfill,
Suitable for incineration at licenced incineration plants. class – Flammability: F1, DIN 53438