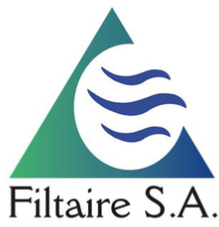 Contact us Today!
104A Terrace Road, Sebenza, Edenvale


FLEXIBLE SIFTER & CONNECTOR SLEEVES
Filtaire S.A. cc manufactures and supplies flexible connector sleeves in a range of materials both permeable and impermeable. We supply the Dairy, Milling, Pharmaceutical, Food Manufacturing Industries along with Industrial process manufacturers that have requirements for product transfer.
Connector sleeves to be calendared with a surface treatment to aid the smooth discharge of powders.
Flexible connectors can be square, round, square to round, tapered, be hemmed for attaching with clamps to a spigot or have flaps for a seal between two flanges;
SIFTER AND CONNECTOR SLEEVES: - Designed for a multitude of industries and applications.
Sifter Sleeves - woven nylon monofilament material that flex constantly while in use on vibratory and gyratory equipment require a soft, strong durable fabric with maximum wear. "Load Out" product transfer sleeves are manufactured from stiffer fabrics.
Sifter Screens –Woven nylon monofilament tubular connector screens micron rated to suit most leading brands of sifting equipment.
Filter Bags - Fabricated to any dimension from either woven or non-woven media. Natural, synthetic, chemically inert and high temperature materials are available.
Covers - Both permeable and impermeable.for machines, tote bins, drums and hoppers are designed to keep foreign material out and/or to prevent product leakage.
POPULAR SLEEVE OPTIONS
• Shock Cord – Elastic cord sewn inside the hem to secure sleeves to spout openings.
• Support Rings – Galvanised, stainless steel rings or PVC extruded cord sewn into the length of sleeves to prevent collapse in
negative pressure.
• Drawstring – Cotton, Polyester braided rope sewn inside the hem to secure sleeves to spout openings.
• Flanges - Sewn into sleeve ends to allow bolt-on installation to flange plates.
• Cut-to-length fabric tubing in lengths of your choice. Fast, easy, custom length connectors save time and money.
Fold over the cut ends and secure with hose clamp.
• Snap-on "shock cord" hems. Makes installations fast and easy to fit. Sleeve stays in place during installation and won't slip
off pipe whilst in use. Secured with hose clamps.
• Integrated band clamp hems. Allows the hose clamp to slide through the specially fabricated top and bottom hems.
Easier sleeve installation and better protection against hose clamp cutting of the sleeve material.
• Static control. Stainless steel or Copper Epi-tropic, polyester anti-static needle felt.